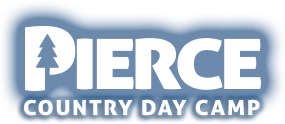 It's More Than Just a Summer Camp

A summer at Pierce is much more than just a summer at camp. It's a Core Experience. It's learning skills, making friends and taking on adventures! It's making noticeable gains in physical, emotional and social development. It's being immersed in a day camp environment dedicated to personal growth, friendship and FUN!

Success for All at Pierce Country Day Camp!

We offer something for everyone and success for all! Our broad-based curriculum includes a tremendous range of activities to appeal to campers of all interests. Supportive staff and unparalleled amenities set the stage for accomplishment. Pierce campers enjoy so many ways to increase athletic abilities, expand creativity and develop new interests.
Pierce is a caring summer camp community. We foster campers' social and emotional growth and encourage independence. Our campers build confidence and forge lasting friendships and memories—all while having the time of their lives!