Pierce Country Day Camp, established in 1918, is a traditional summer camp for kids ages 3 to 13 years old, and we're only 18 miles, or about 30 minutes from New York City. No camp has safer or faster transportation to NYC!
Safe, Spirited Door-To-Door Transportation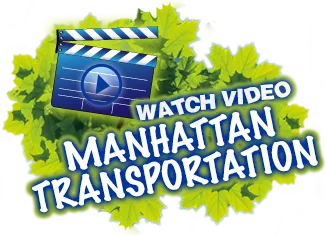 The Pierce day begins with door-to door transportation on our comfortable, closely supervised buses. All of our vehicles are air-conditioned, GPS tracked by our office, equipped with two-way radios, cell phones and video monitors, and maintained to the highest standards. Each bus is driven by a professional NYS 19A certified school bus driver who works for the Pierce family year-round. Other camps use third party bus services, for-hire or camp parent drivers, or rented vehicles for their NYC buses…not at Pierce! In addition to the driver, each bus has a bus counselor on board to keep the ride fun and safe. Bus counselors are also equipped with bus games and cell phones to communicate with our families as necessary. Pierce Coach Line has also received the highest ranking in NY State as it relates to vehicle maintenance records from the NY State Department of Transportation. We service many communities all over NYC.
A Tradition of Excellence Since 1918
Pierce was the first, and remains the very best summer day camp in the nation! We established a national model followed by camps across America. And today, Pierce remains the nationally recognized industry leader continually raising the bar for what day camp can be! Our relentless pursuit of excellence means that Pierce campers enjoy the premier summer day camp experience available. It has been this way at Pierce for over a century, and we will keep it that way for generations to come.
A Haven for Children
When Forrester "Pop" Pierce was a twenty-five-year-old Physical Education teacher and coach he envisioned a unique summer program for children. It would be a safe place to broaden horizons and boost self-esteem; an extraordinary environment where children could romp, play, sing, dance, swim, dive, laugh and most importantly be kids. This setting would promote freedom, self-expression, and positive physical and social development. It would be a true haven for children where there was something for everyone and success for all!
That place is Pierce Country Day Camp! Over 100 years later much has changed, but the early values of Pop Pierce remain resolute and unyielding. We encourage you to give us a call and set up a tour of the camp and facilities. The best way to learn about the difference between Pierce Country Day Camp and other day camps is to come see, feel, and experience the energy, spirit and awesome fun for yourself.