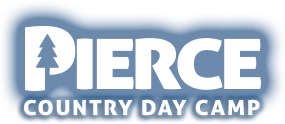 Pierce Country Day Camp is the best place under the sun for extraordinary summers! At Pierce we LOVE camp and LIVE camp in everything we do. Established in 1918, Pierce remains America's first and finest summer day camp. Four generations of our family have remained 100% committed to creating a magical place where children thrive. Our mission statement is short and sweet, rock solid and unwavering: CHILDREN FIRST! At Pierce, we will take care of your children as if they were our own. The experiences we provide Pierce campers create friendships, skills and lifelong memories.

Pierce Country Day Camp—A Place Where Spirit Soars and Laughter Roars

Pierce is a place that smiles; a place where spirit soars and laughter roars. Pierce is an environment completely dedicated to the enrichment of children. Campers' self-confidence and spirit swell in our dynamic program which emphasizes personal growth, friendship and FUN! Pierce's innovative curriculum, interactive staff and magnificent facility ensure incredible summers!

Obsessed To Be The Best!

At Pierce, our obsession to be the best comes through in everything we do! Our modern, impeccably maintained facilities, endless offerings and spirited staff are second to none. We work tirelessly year-round creating the best day camp experience on earth. We pour incredible energy and commitment into every aspect of our camp to provide unrivaled quality at every turn. You see, camp isn't just a job to us, it's a way of life. And it's been our passion, pledge and purpose since 1918.


It's More Than Just a Summer Camp

A summer at Pierce is much more than just a summer at camp. It's a Core Experience. It's learning skills, making friends and taking on adventures! It's making noticeable gains in physical, emotional and social development. It's being immersed in a day camp environment dedicated to personal growth, friendship and FUN!

Success for All at Pierce Country Day Camp!

We offer something for everyone and success for all! Our broad-based curriculum includes a tremendous range of activities to appeal to campers of all interests. Supportive staff and unparalleled amenities set the stage for accomplishment. Pierce campers enjoy so many ways to increase athletic abilities, expand creativity and develop new interests.
Pierce is a caring summer camp community. We foster campers' social and emotional growth and encourage independence. Our campers build confidence and forge lasting friendships and memories—all while having the time of their lives!