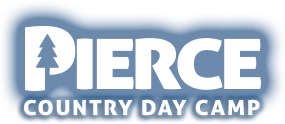 At Pierce every day is a new adventure! Our program offers an extraordinary range of premier athletics, aquatics, arts and adventure activities that appeal to the interests and abilities of all campers. You can see most of the many activity areas at Pierce by checking out our Virtual Tour, but we wanted to share with you the underlying principles we follow when designing our intentionally structured program.

Here are 7 reasons why our camp program is one of the best investments you can make in your child's development…

1. A Vacation from Technology

A break from screen time is shown to lead to better sleep, reduced anxiety and stress, and an increase in academic performance. Pediatricians notice a "ripple effect" when screen time is reduced, that has long-lasting positive effects on a child's physical and mental health.

2. A Chance to Get Outside & Run Around

Science shows that being outdoors and in nature has a number of positive neurological effects, especially for children who are spending more time indoors and online than ever before. More time in nature increases happiness and creativity, reduces stress, and may even help children be kinder and more generous. In addition, a variety of daily physical activity (structured, unstructured, and spontaneous) is an essential part of a child's growth and development.

3. An Opportunity for Exploration & Unstructured Play

Play isn't just fun, scientists say it helps build a better brain. An NPR investigation showed that, "When it comes to brain development, time in the classroom may be less important than time on the playground." Unstructured, "free" play, which camp provides in abundance, gives children time to practice communicating, collaborating, and negotiating with their peers. All important skills for later in life.

4. A Space to Learn New Skills & Develop a Sense of Identity

Encouraging kids to try new things and learn new skills makes them feel confident and capable. Unlike school, where kids often feel pressured to perform and excel at every new task, camp provides children a space where they are encouraged to pick up a sport or craft or way of interacting without the pressure to succeed. When children explore new activities, it helps develop their sense of identity, and may lead to discovering new, unexpected passions.

5. An Environment to Gain Independence & Confidence…

Studies show that camp helps kids build a "positive identity" in which they feel more confident, more independent, and proud of themselves. This increase in confidence is shown to lead to more success in school, college, and career.

6. …And Become More Resilient

Resilience is "the ineffable quality that allows some people to be knocked down by life, and come back stronger than ever." Increasingly, developmental psychologists are realizing that resilient children become happier, healthier adults. Research shows that factors that lead to resilience include: supportive adult-child relationships, building a sense of self-efficacy, providing opportunities to strengthen adaptive skills, and encouraging traditions – all of which take place and are nurtured at camp.

7. The Friendships & Social Bonds Last Forever

Recent research shows the importance of childhood friendships on mental and physical health. A young child's friendships are important in developing social and emotional skills, increasing a sense of belonging, and decreasing stress. Children with "good" friends do better in school, have higher self-esteem, and can cope with life's stresses and transitions. Studies show that camp develops and nurtures lifelong friendships.