At Pierce we never stop working on camp – we love camp and live camp with everything that we do. After two successful summers with the pandemic, we are excited to bring back our full program AND introduce some great new additions to our facilities and schedule.
AMAZING HAPPENS HERE!
We are very excited about what we have in store for this upcoming summer season! Here's a SNEAK PEEK of just a few things we are adding (and bringing back) to Summer 2022 to make it the best one yet! We can't wait to see everyone at camp in a few short months! -The Pierce Family
We Look Forward To Seeing Your Family For Our 
1

05th Summer!

Sneak Peek of What's In Store for Summer 2022:
American Ninja Warrior Expansion – Our Ninja Warrior course has been such a big hit that we will be doubling the number of unique elements giving our campers new opportunities to run, jump, vault, climb and balance. Our campers are going to love these new challenges as this is one of the most popular activities on camp for 6's and up!
New Photo Sharing App – Allow us to introduce Campanion, our new camp photo app. The current photo system will remain in place, but benefits of Campanion allow you to view our photos more easily on your phone, set up optional facial recognition for your camper, and view photos in an Instagram style feed. Campanion also allows for enrollment and camp form submission right through the app.
Brand New SANDTASTIC Playground – It's time for a major upgrade in the sand playground! We have teamed up with Landscape Structures to build a state-of-the-art playspace full of innovative new features which will inspire the imaginations of our campers… then they will take it from there!
Flag Football – We've added flag football for all campers 6's and up. Instead of tackling the ball carrier, defensive players attempt to pull the flags off the ball carrier's belt.
New Activity: Think Fast! – Our very own professional game show equipment will allow our campers to face off in a variety of game show formats…tell Ken Jennings to watch out!
More Theme Days and a new Special Event – We are putting the final touches on our 2022 Camp Calendar which will include more theme days and a brand new Special Event… Stay tuned for more details!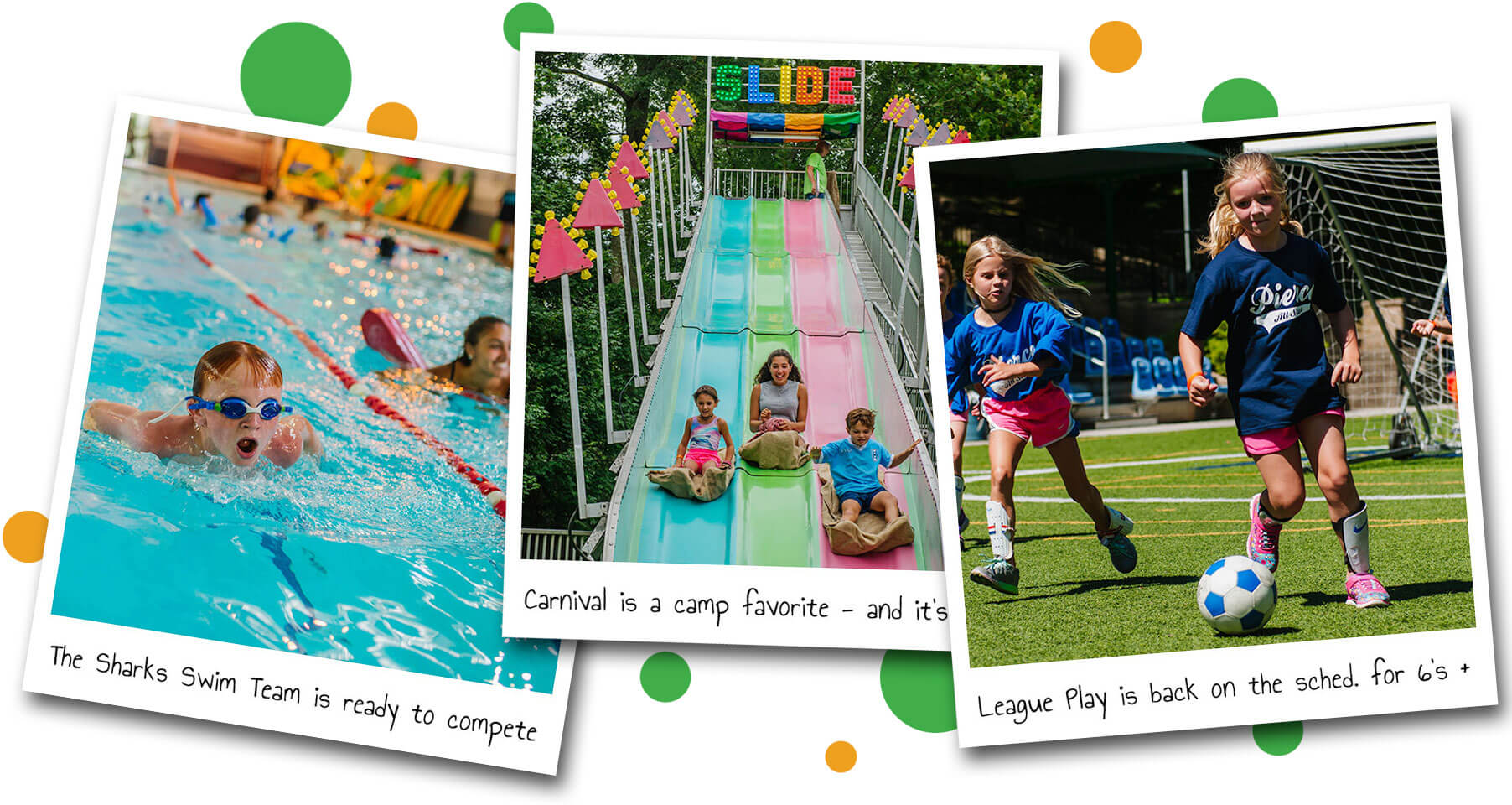 WE ARE BACK!!!
After Two years of modified camp, our full program is back including these activities and special events!
Carnival Day!
Mid-Summer Surprise
Sports League Play for 6+
Senior and Super Senior Trip Program
Active-8 Choice Program for all of our 8's
Pierce Sharks Swim Team
Pow Wow Shows WITH PARENTS!
Special Events from our favorite vendors Party Pets, Eric the Magician, and more!